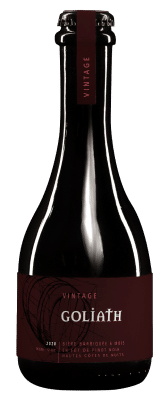 Goliath Blond barricade 6 months in Pinot Noir Hautes Côtes de Nuit cask
Refreshing beer with a golden robe. The acidity of red wine provides a delicious contrast to the bitterness of Goliath Blonde.
It offers a generous bouquet with woody and gourmet notes (grapes and black fruits). It contains 7.4% alcohol.
To taste at cellar temperature.
Goliath Blonde barriqué 5 months in Chardonnay Hautes Côtes de Beaune cask
Blond beer with subtly woody, slightly vanilla and fruity notes. (citrus type)
It has 7.6% alcohol content.
To taste at cellar temperature.